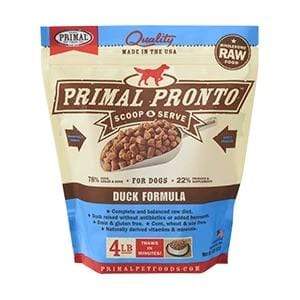 ***This product is available for local pickup or delivery ONLY***

Thaws in minutes and comes in a convenient, bite-sized, easy-to-portion format—just scoop and serve! Made with high-quality protein and Certified Organic produce, crafted especially for your canine.
Fresh duck for superior levels of amino and essential fatty acids
Organic produce for food-derived vitamins A, B-complex, C, and D
Finely ground, fresh duck bones for optimum levels of calcium
INGREDIENTS
Duck (with ground bone), Duck Livers, Organic Carrots, Organic Kale, Organic Squash, Organic Apples, Organic Broccoli, Organic Pumpkin Seeds, Organic Sunflower Seeds, Organic Blueberries, Organic Cranberries, Organic Parsley, Organic Apple Cider Vinegar, Montmorillonite Clay, Fish Oil, Organic Quinoa, Organic Coconut Oil, Vitamin E Supplement, Organic Ground Alfalfa, Dried Organic Kelp, Zinc Sulfate.
GUARANTEED ANALYSIS
CALORIE CONTENT
1 measured cup of Pronto = approx. 4 oz
 PRODUCT CONTENTS
| | |
| --- | --- |
| Carbohydrates | 1.7% |
| Duck | 78% |
| Produce & Supplements | 22% |
| Organ Meat | 8% |
| Bone Content | 10% |
| CA-to-P Ratio | 1.22:1 |
PRIMAL PET FOODS CANINE COMPLETE DUCK FORMULA IS FORMULATED TO MEET THE NUTRITIONAL LEVELS ESTABLISHED BY THE AAFCO DOG FOOD NUTRIENT PROFILES FOR ALL LIFE STAGES EXCEPT FOR GROWTH OF LARGE SIZE DOGS (70 LBS OR MORE AS AN ADULT).
VITAMINS
| | |
| --- | --- |
| Vitamin A | 19736 IU/kg |
| Thiamin: B1 | 4.02 mg/kg |
| Riboflavin: B2 | 1.38 mg/kg |
| Niacin: B3 | 12.6 mg/kg |
| Pantothenic Acid: B5 | 5.38 mg/kg |
| Pyridoxine: B6 | 2.83 mg/kg |
| Folate: B9 | 0.17 mg/kg |
| Vitamin B12 | 0.05 mg/kg |
| Vitamin C | 36.05 mg/kg |
| Vitamin D | 640.02 IU/kg |
| Vitamin E | 47.03 IU/kg |
MINERALS
| | |
| --- | --- |
| Calcium | 0.39% |
| Copper | 11.00ppm |
| Iodine | 0.18ppm |
| Iron | 48.00ppm |
| Magnesium | 0.06% |
| Manganese | 5.00ppm |
| Phosphorus | 0.32% |
| Potassium | 0.26% |
| Selenium | 0.18ppm |
| Sodium | 0.09% |
| Zinc | 41.00ppm |