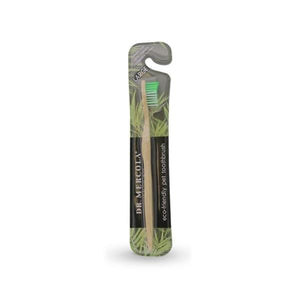 Just like you uphold good dental hygiene because it's important for your overall health, it is the same for your pet.
And I highly recommend brushing your pet's teeth as often as possible as the number one way to prevent dental disease and keep your pets healthy.
My Healthy Pets Eco-Friendly Pet Toothbrush is made out of sustainable, strong bamboo with recyclable nylon bristles.
Among bamboo's many outstanding qualities, are its:
Incredibly fast growing and regenerative
Able to release more oxygen into the air than hardwood trees
Biodegradable
Also, due to its fibrous nature, it helps clean pets' teeth when they chew on it, so it's safe if dogs or cats chew on the handle while brushing.
Unfortunately, even though dental problems can cause pets pain, often there are no apparent symptoms unless you are regularly checking your pet's teeth. And a buildup of dental plaque could turn into harmful dental disease, which can potentially affect your pets' heart, liver, and kidneys as they get older.
Help protect your furry friend now... give them a daily dental routine to help them maintain optimal health. It's best to start early.. but it's never too late! Try this Healthy Pets Eco-Friendly Pet Toothbrush today!