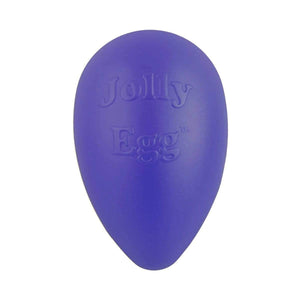 Question: "Is there a dog toy that exists that is not only super-durable and strong, but also is actually fun to play with?" Answer: "Yes – The Jolly Egg™. Designed for constant, erratic motion, the Jolly Egg™ has a fun oval shape that dogs love to chase. They can never quite get a grip on the Egg, but they love to try! Since the toy constantly escapes your dog, it gives your dog a safe, fun outlet for their prey instinct.
Made in the USA
Chase - sure to give your dog a run for his money
Entertain – erratic motion amuses during solo play
Swim - ideal for water based fun
Small - 8"

We design our toys to be durable, but no dog toy is indestructible.  For safety, you should always supervise while your dog plays with any toy. Remove all packaging and dispose or properly. Parts of this item can be a choking hazard to pets and children if removed from the toy. If any becomes loose, detached, or destroyed, remove the toy and discard immediately.
Toy Precaution 
All dogs are special with their own personalities and ways to play. Since they play in different ways with various strengths and desires please keep that in mind when selecting a toy for your dog. Not all toys are created equal and it is best to supervise playtime. Inspect toys frequently to ensure there are no pieces missing or falling off for your dog's safety.