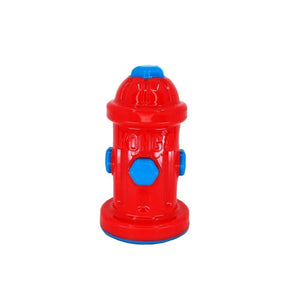 KONG Eon Fire Hydrant's durable material ensures these bright, sturdy toys will deliver long-lasting chewing satisfaction, offering a fun and appropriate outlet for natural chewing instincts. Their fun shapes create erratic and irresistible bounces that make fetching even more fun add to that the ability to float and this toy deliver on anytime play needs. The squeaker calls dogs to play and keeps them engaged while multiple textures keep pups interested in extended rounds of interactive fun.
Vibrant, durable material for chewing satisfaction
Erratic bounce fuels fetching fun
Floats for water fun
Toy Precaution 
All dogs are special with their own personalities and ways to play. Since they play in different ways with various strengths and desires please keep that in mind when selecting a toy for your dog. Not all toys are created equal and it is best to supervise playtime. Inspect toys frequently to ensure there are no pieces missing or falling off for your dog's safety.