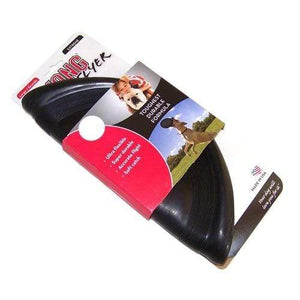 KONG Extreme Flyer is made for fetching. It is made of durable KONG Extreme rubber which allows for a forgiving catch, plus the material delivers a dynamic rebound just in case your dog misses the initial toss. Let your dog's love of fetch take flight with a safer disc that delivers tons of healthy activity.
Made in the USA. Globally Sourced Materials. 
Toy Precaution 
All dogs are special with their own personalities and ways to play. Since they play in different ways with various strengths and desires please keep that in mind when selecting a toy for your dog. Not all toys are created equal and it is best to supervise playtime. Inspect toys frequently to ensure there are no pieces missing or falling off for your dog's safety.