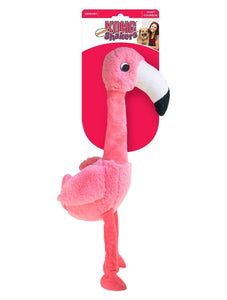 KONG Shakers Honkers Flamingo is a festive flash of pink whose internal neck features a texture that satisfies a dogs' natural chewing instincts while the long floppy legs spark shaking and tugging playtime fun. The KONG Shakers Honkers Flamingo's low tone squawk and the reinforced plush design keeps dogs tickled pink and playing longer.
Long plush toy ideal for tugging and shaking
Internal textured neck for natural chewing instincts
Floppiness and length ideal for fetching fun
Flamingo character for added playtime fun
Low tone squeaker keeps dogs playing
Toy Precaution 
All dogs are special with their own personalities and ways to play. Since they play in different ways with various strengths and desires please keep that in mind when selecting a toy for your dog. Not all toys are created equal and it is best to supervise playtime. Inspect toys frequently to ensure there are no pieces missing or falling off for your dog's safety.