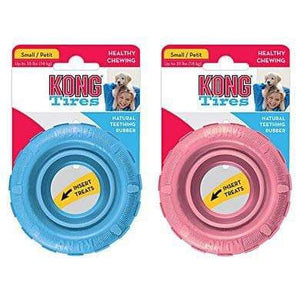 The new KONG Puppy Tire is an extension of the most popular KONG Classic Puppy line. Building on the success of the popular KONG Tires for adult dogs, this toy uses KONG's exclusive puppy rubber formula specifically designed to ease teething gums. The stuffable inner track creates a mental challenge for puppies while teaching correct chewing habits. Freeze for a greater challenge.
Made in the USA. Globally Sourced Materials.
Girl or Boy??? Let us know at checkout and we will send you pink for girl or blue for boy puppy.
 
Toy Precaution 
All dogs are special with their own personalities and ways to play. Since they play in different ways with various strengths and desires please keep that in mind when selecting a toy for your dog. Not all toys are created equal and it is best to supervise playtime. Inspect toys frequently to ensure there are no pieces missing or falling off for your dog's safety.