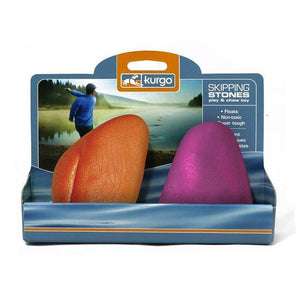 Fetch in the water is a great workout for your dog, but why should they have all the fun? Bring some excitement to your game by replacing your slimy ball with these floating skipping stones.  
Shaped just like real stones, you can skip them over the water as far as you can, wait for your dog to bring them back, and then repeat until you beat your personal best or one of you passes out from exhaustion.
Non-toxic
Dishwasher safe
Super durable
Easy to spot colors
Never gets waterlogged
Floats well even after a good chewing
Sizing: Orange "Easy Rider" 4" W x 2.5" H x 1" D. Green "Fat Bob" 3.5" W x 2.75" H x 1.25" D. Purple "Tiny" 3.5" W x 2.5" H x 1" D.
Product Note: Skipping Stones come in a two-pack of two different colors. Colors are selected by our warehouse. You cannot specify the color you want to order.
For supervised use only. The Kurgo Skipping Stones are fetch toys and aren't designed to be chewed over long periods of time. Inspect product regularly for damage and discontinue use of the Skipping Stones if pieces begin to break off.