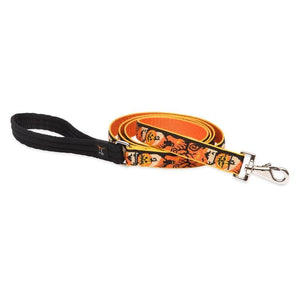 Celebrate the holidays with your best friend! LupinePet padded handle dog leash in our festive Holiday Designs. Available in 6' length and 3 widths to suit any size dog. Our popular dog leash in ¾" & 1" widths for medium & large dogs feature a convenient gate style snap. Simply push the snap onto the collar's D-ring and you're ready to go! ½" width for small dogs feature a lightweight, traditional trigger snap. All featuring premium components, including:
Ultra-soft padded handle for comfort while walking even the strongest of pullers
Simple, secure snap for easy D-ring attachment. Built-in swivel resists twisting
Strong, durable nylon webbing
Welded steel hardware
Our Holiday design dog leash pairs perfectly with a matching LupinePet Holiday dog collar. All LupinePet gear GUARANTEED, Even If Chewed®.