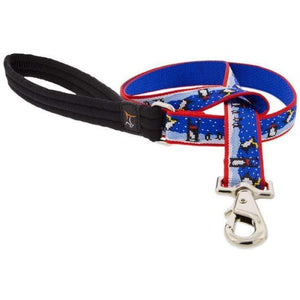 6' length & 1" wide only
Description
Lupine Pet Micro Batch Dog Leash is available in 3 widths and multiple lengths to suit any size dog and situation. Our ¾" & 1" widths for medium & large dogs feature a convenient gate style snap. Simply push the snap onto the collar's D-ring and you're ready to go! Our ½" width for small dogs feature a lightweight, traditional trigger snap.
Ultra-soft padded handle for comfort while walking even the strongest of pullers
Simple, secure snap for easy D-ring attachment. Built-in swivel resists twisting
Welded steel hardware
Strong, durable woven nylon webbing
Complete the set with a matching dog collar and Dog Tag Art ID tag. At LupinePet, we stand behind all of our pet gear with our famous  Even if Chewed, Lifetime Guarantee.
Product Features
Super Comfortable Padded Handle - The custom designed padded handle on your Lupine leash sets it apart from other leashes on the market. Light-weight in hand with a brushed nylon underside to ensure maximum comfort.
Beautiful, Long Lasting Webbing - Our designs are woven right into the webbing – never printed – so you can count on your Lupine Leash to withstand the rigors of time, your washing machine and of course, your dog and still look fabulous year after year!
Stitching – Every Fiber Matters - Lupine utilizes the bar tack commonly used in mountain climbing products where superior strength is crucial.
Snaps that are Easy to Use and Secure - For medium and large dogs, Lupine's leashes feature a convenient, cold-weather friendly gate style snap that proves to be a most popular feature. Simply push the snap onto the collar's D-ring and you're ready to go! For small dogs we feature a lighter weight traditional style trigger snap.