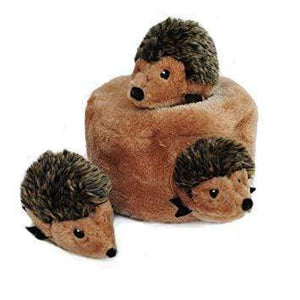 Dogs love to bury their noses in the Zippy Burrow to dig out the hedgehogs. They'll be begging you to put them back in the Burrow again and again for hours of fun! Interactive toy keeps dogs busy and engaged.
This interactive hide-and-seek toy comes with 1 den and 3 small squeaky hedgehogs.
Toy Precaution 
All dogs are special with their own personalities and ways to play. Since they play in different ways with various strengths and desires please keep that in mind when selecting a toy for your dog. Not all toys are created equal and it is best to supervise playtime. Inspect toys frequently to ensure there are no pieces missing or falling off for your dog's safety.